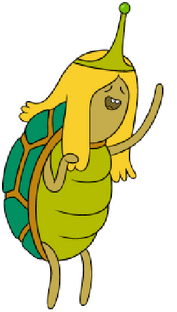 Turtle Princess
Turtle Princess is one of the many princesses in Adventure Time, though she appears in more episodes than most of the other princesses. She first appears in "What is Life?" in Ice King's Imagination Zone. She appears again in "Loyalty to the King" as one of Nice King's many lovers, but she was one of the princesses that Nice King told Finn and Jake to reject for him. Finn told her that Nice King was not looking for a relationship, but Jake tells her to "get out of here!" and she runs away crying. In "The Real You" Turtle Princess is a librarian in the library Finn and Jake are in.
Ad blocker interference detected!
Wikia is a free-to-use site that makes money from advertising. We have a modified experience for viewers using ad blockers

Wikia is not accessible if you've made further modifications. Remove the custom ad blocker rule(s) and the page will load as expected.