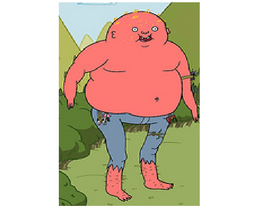 Ogre
The giant ogre appears in "The Enchiridion!" in which Finn and Jake are in the woods and Ogre picks up Jake and eats him. The Ogre has to stop Jake from escaping from places like his ear and nose, but Finn gets furious; thinking Jake is dead, and steals the Ogre's dollar. Finn flies up and kicks the ogre in the stomach, causing him to vomit out Jake. Jake walks off the path of vomit, and lands in Finn's arms. Finn turns the dollar into a paper airplane and flies off with Jake. When he lands at the opening of the tower of the Enchiridion, Finn throws the dollar back down to the ogre, and Jake compliments him on being righteous. The ogre is the third challenge of the Enchiridion, the first being Key-per and the second being the deadly gnomes.
Ad blocker interference detected!
Wikia is a free-to-use site that makes money from advertising. We have a modified experience for viewers using ad blockers

Wikia is not accessible if you've made further modifications. Remove the custom ad blocker rule(s) and the page will load as expected.