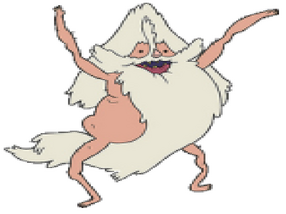 Naked Wizard
Naked Wizard appears in "Memories of Boom Boom Mountain" in which he shouts out that he is naked, which is obviously true. The only problem is he is naked in a thunderstorm, which is never good. The smoke of an evaporated Ice Cube Creature gives him a hat which technically means he isn't naked but every bit except his head is left naked. Naked Wizard also appears in "Wizard Battle" once again naked (evaporated hats can't really last all that long, can they?).
Ad blocker interference detected!
Wikia is a free-to-use site that makes money from advertising. We have a modified experience for viewers using ad blockers

Wikia is not accessible if you've made further modifications. Remove the custom ad blocker rule(s) and the page will load as expected.