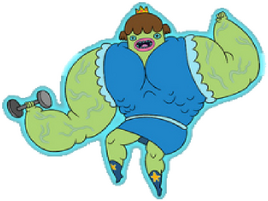 Muscle Princess
Muscle Princess is one of the many princesses in Adventure Time. She first appears in "What is Life?" in Ice King's Imagination Zone and she later appears in "Loyalty to the King" admiring the Nice King. She appears once again in "To Cut a Woman's Hair" when Finn comes to her castle asking for her hair, saying it looks horrible and should be cut off. Muscle Princess says of course her hair looks bad, if it looked good then people would be distracted from how big her muscles were. She also mistakes his request as love. Finn calls her Princess Muscles.
Gallery
Ad blocker interference detected!
Wikia is a free-to-use site that makes money from advertising. We have a modified experience for viewers using ad blockers

Wikia is not accessible if you've made further modifications. Remove the custom ad blocker rule(s) and the page will load as expected.