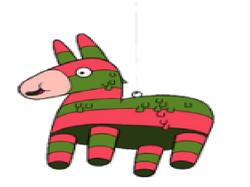 Manfried
Manfried the Talking Piñata makes his first appearance in "Slumber Party Panic". He hangs on a string in Princess Bubblegum's main hall, alerting her of trouble and giving her advice. In "Slumber Party Panic", Manfried is one of the guests in the main hall, and Finn uses Manfried as his muse, his idea of inventing a game in which people are blindfolded and have to hit the piñatas (except Manfried). Manfried also appears in "What Have You Done?" to tell PB that she is needed in the castle. In "Too Young" Manfried makes a trumpet noise to indicate the coming of the Earl of Lemongrab. Apparently, Manfried can move from place to place, like in "What Have You Done?" but so far that has only happened once.
Ad blocker interference detected!
Wikia is a free-to-use site that makes money from advertising. We have a modified experience for viewers using ad blockers

Wikia is not accessible if you've made further modifications. Remove the custom ad blocker rule(s) and the page will load as expected.