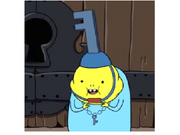 Key-Per
Keyper appears in "The Enchiridion!" in which he defends the gate and gives Finn and Jake a riddle which he recites in an extremely fast voice. Finn and Jake pass the riddle which Finn says is "because he thought he would look cute in that keyhole". Keyper later appears after Finn defeats the Dark Magician, and Finn knocks him out because he's wearing a devil costume. It is then revealed that the devil costume is his pyjamas.
Ad blocker interference detected!
Wikia is a free-to-use site that makes money from advertising. We have a modified experience for viewers using ad blockers

Wikia is not accessible if you've made further modifications. Remove the custom ad blocker rule(s) and the page will load as expected.