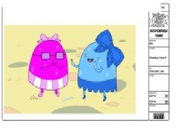 Gumdrop Lasses
The Gumdrop Lasses first appear in "The Enchiridion!" at a party in the candy kingdom. Gumdrop Lass #1 asks Finn if he has a girlfriend and Gumdrop Lass #2 giggles and says "I can't believe you just said that!" They are gossipy and also appear in "Susan Strong" as witches to scare away the Hyoomen tribe. They also appear in "Mystery Train" as passengers.
Ad blocker interference detected!
Wikia is a free-to-use site that makes money from advertising. We have a modified experience for viewers using ad blockers

Wikia is not accessible if you've made further modifications. Remove the custom ad blocker rule(s) and the page will load as expected.