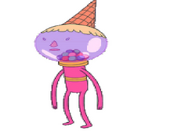 Gumball Guardians
The Gumball Guardians, or Guardians of the Royal Promise, are seen in "Slumber Party Panic" in which they are blowing bubbles on either side of PB's castle. They are later seen stopping time because Finn broke a royal promise (Finn made a royal promise to PB that he wouldn't tell anyone about the candy zombies, and he ended up telling Jake because all of the zombies were defeated). Most of the time they would destroy Finn, but one of them comes up will a super-hard maths equation, but then the second one comes up with another one: 2 + 2. Finn, though terrible at math, answers correctly, and they let him off the hook. Then their heads explode and time begins once again. They are briefly filmed in "Ricardio the Heart Guy" but they don't do anything in this episode. They make their final appearance in "Mortal Recoil" fighting with the newly possessed PB, but she defeats them and their heads can be seen in pieces later on in the episode. For all we know, those heads are still smashed to this day.
Ad blocker interference detected!
Wikia is a free-to-use site that makes money from advertising. We have a modified experience for viewers using ad blockers

Wikia is not accessible if you've made further modifications. Remove the custom ad blocker rule(s) and the page will load as expected.