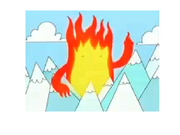 Fire Elemental
The Fire Elemental lives in the Ice Kingdom, despite his being made of fire, and makes a single appearance in the original, when he asks Pen and Jake if they can point him to the sun. Unlike rest of the creatures in the Ice Kingdom, the Fire Elemental does not appear in "Prisoners of Love".
Ad blocker interference detected!
Wikia is a free-to-use site that makes money from advertising. We have a modified experience for viewers using ad blockers

Wikia is not accessible if you've made further modifications. Remove the custom ad blocker rule(s) and the page will load as expected.