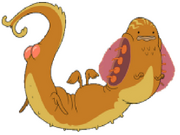 Dragon
Dragon first appears in "Memories of Boom Boom Mountain". The dragon complains that his bottom itches. The spikes from a Cactus Creature soothes his itching, causing him to breath a flame at an Ice Cube Creature. Another dragon appears in "His Hero", chasing a cobbler and breathing fire at him. In "The Eyes" Finn and Jake flashback on slaying a dragon and in "The Silent King" the goblins are revealed to have royal dragon stables, giving away the fact of a species of dragons.
Ad blocker interference detected!
Wikia is a free-to-use site that makes money from advertising. We have a modified experience for viewers using ad blockers

Wikia is not accessible if you've made further modifications. Remove the custom ad blocker rule(s) and the page will load as expected.