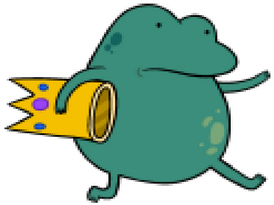 Crown Frog
The Crown Frog is a frog with a crown that appears in "The Witch's Garden" holding his crown by his side. Finn and Jake are chasing it, and it goes through the Witch's gates. Jake asks when they can stop chasing it, and Finn replies they can when he sees the frog put on its crown. It has not been seen since.
Ad blocker interference detected!
Wikia is a free-to-use site that makes money from advertising. We have a modified experience for viewers using ad blockers

Wikia is not accessible if you've made further modifications. Remove the custom ad blocker rule(s) and the page will load as expected.