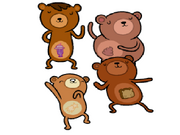 Bears
The Bears appear in "My Two Favourite People" in which they are getting free power rings from a forest wizard. Like the wizard, they are scared off by a furious Jake. Some of them also appear in "When Wedding Bells Thaw" in which they are at the Ice King's Manolete party. They also appear in "Belly of the Beast" having a party in a giant's stomach. There they create a new "party cave". They make a firework display which hurts the giant and create a honey energy drink.
Ad blocker interference detected!
Wikia is a free-to-use site that makes money from advertising. We have a modified experience for viewers using ad blockers

Wikia is not accessible if you've made further modifications. Remove the custom ad blocker rule(s) and the page will load as expected.